Multidisciplinary Team – PACT
PACT, Professionals Against Child Trauma, team members are representatives from the following agencies: Law Enforcement, Department of Human Resources, Juvenile Probation, the Children's Advocacy staff, and the District Attorney's office. This team meets periodically to review and discuss the individual cases that have been investigated through the center. Decisions are made regarding follow up steps necessary for the case.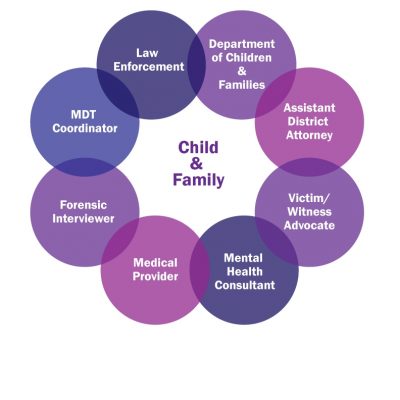 The District Attorney/ Prosecutor. The prosecutor, or Assistant District Attorney (ADA), has the final decision on whether charges will be filed. Consideration is given to many factors, which will affect the likelihood of success in court. Some of the factors are: age and maturity of the child, the child's ability to testify, whether or not the suspect has confessed, presence of medical evidence, and whether or not there are other witnesses.
Law Enforcement Officer/ Investigator. The Law Enforcement Officer/ Investigator interviews the non-offending parents, the suspect, and witnesses. Evidence is gathered. When the investigation is complete, all the evidence and interview information that is collected is turned over to the DA's office.
The Social Worker/DHR. The role of the Department of Human Resources is to protect you and your child. They schedule interview appointments and may develop safety plans. Please, remember that the law requires DHR to investigate ALL claims of child abuse. Think of them as a second set of eyes to safeguard against further abuse with the added benefit of providing you with additional resources or social services.
The Doctor/SANE Nurse. The exam for sexual abuse involves a regular checkup with magnification of the genitalia. This exam should not be traumatic or painful. Please remember, an exam does not indicate whether abuse has or hasn't occurred. Eight percent of the children who have been abused, have normal exams. One definite advantage is that it allows the doctor to assure the child that his/her body is okay and healthy.
The Case Manager/ Family Advocate. The Case Manager/ Family Advocate is a professional who monitors case flow, connects families to outside resources, and coordinates services between agencies. With the help of the Counselor, the Family Advocate aids in court preparation, and provides information and updates to families involved throughout the process.
The Trauma Counselor/ Therapist. The Trauma Counselor/ Therapist is a mental health licensed professional who can help determine how the abuse has affected the child and family. The Therapist strives to meet the child and family where they are, mentally and emotionally. They teach the child positive coping skills, breathing techniques, and a goal oriented treatment plan to help them heal from their traumatic experience. If recommended by the PACT Team, the Therapist can help in the investigation by completing an 'Extended Forensic Interview/ Assessment'. This provides the PACT Team an opinion of whether the child's disclosure is consistent and credible. This also gives the child time and a feeling of safety so he/she can tell what happened.